Dietary Fat: Five Myths About Fat That You Should Must Realize
Navigating the sometimes contradictory research and information around dietary fat can make a person's head spin. Should I eat more fat? Less fat? A different kind of fat? Here are the five most common myths around dietary fat:
Myth 1: Eating more fat makes you fatter
Not true.
Eating more calories than you burn makes you gain fat.
Whether those excess calories come from protein, carbohydrates or dietary fat, any calories that you eat above your daily energy requirements will get stored away as body fat.
The issue with dietary fat is that it's extremely calorie dense, meaning that it contains more calories per gram than other macro-nutrients like protein or carbohydrates. This means that gram-for-gram, foods with a higher fat content contain more calories (9 calories per gram of fat versus 4 calories per gram for carbohydrates and protein.)
So if you aren't careful, you can end up eating more calories in foods with higher fat content, even though you are eating the same amount of food.
Myth 2: Eating Low-Fat or No-Fat Foods Will Make You Slimmer
Not necessarily.
Many pre-packaged foods that are marketed as low-fat and fat-free are extremely high in sugar, as well as preservatives and additives.
Why? Because when food manufacturers remove the dietary fat to make low-fat or fat-free foods, the foods themselves lose much of their flavor and texture. To make up for the bland taste, they load them up with sugar, as well as add fillers or fat-substitutes to improve the "mouth-feel" of the food.
Also, because people are in the mindset that "fat-free" means "low calorie" (it doesn't), people tend to over-eat on fat free foods.
When people think they are eating healthier, less calorie-dense foods, they allow themselves to eat more of those foods. The problem is that most fat-free foods – because of the higher sugar content – are still high in calories. So while you may be reducing your calories from fat, you are not necessarily reducing your overall calories. In fact, you may be increasing them.
Myth 3: All Fats Are Bad
Wrong again. The fat-free craze that started in the 80s resulted in most people lumping all fats together under the term "bad." But research over the past decade has indicated that not all fats are created equally.
For example, fish is high in polyunsaturated Omega 3 fatty acids, which may be beneficial for heart and cardiovascular health. Research indicates that this particular type of "healthy" fat can decrease the risk of coronary artery disease, as well as lower blood pressure.
There is also mounting evidence that Omega 3 fatty acids may help keep the brain healthy as well, acting as a mild anti-depressant, improving mood, memory and concentration and decreasing the risk of certain brain diseases like Parkinson's disease and Alzheimer's disease.
These healthy fats also seem to have anti-inflammatory properties similar to over-the-counter drugs like Ibuprofen and aspirin, without the possible side-effects.
Good sources of Omega 3s include:
fish (especially fatty fish like mackerel, herring, sardines and salmon)
flaxseed
​walnuts
pecans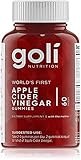 Vegan, Non-GMO, Gluten-free & Gelatine-free: Each bottle of Goli contains 60 delicious vegan, non-gmo, gluten-free & gelatine free Apple Cider gummies. Our formula will make Apple Cider Vinegar gummies accessible to anyone and everyone.
Better digestion, more energy, clearer skin, detox, immunity: Relieve digestion issues, experience more energy, watch your skin clear up and feel as your body detoxes with Goli Gummies. Enjoy all of the benefits of Apple Cider Vinegar without the downside of drinking it. Goli is an excellent and easy way to incorporate Apple Cider Vinegar into your daily routine.
Made in USA: with select ingredients thoughtfully curated from around the world. All Goli products are made in allergen-free state of the art facilities in the United States to ensure that the quality of our product is the highest it can be.
Real apples, vitamin packed, great taste: Made with real apples, beetroot and pomegranate, Goli Gummies are as delicious as they are good for you. Our vegan friendly formula is packed with Vitamin B12 and B9 that will help improve energy, support healthy skin and so much more.
Vitamin Angels: Goli wants to give back to the community by partnering with Vitamin Angels. For every bottle you purchase Goli donates a 6 months supply of vitamins to a child in order to fight malnutrition around the world.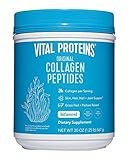 Explore Jennifer Aniston's Tips for Wellness ---- "My go-to collagen routine is adding Vital Proteins' Collagen Peptides in my morning cup of coffee or smoothie - so easy to use."
Bioavailable Collagen Peptides Powder ---- Sourced from grass-fed, pasture-raised bovine to ensure high quality and sustainable source of this powerful ingredient. Digested and absorbed by the body quickly for maximum benefits.
Health Benefits ---- Original Collagen Peptides with Hyaluronic Acid + Vitamin C is Vital Proteins exclusive product. Supports healthy hair, skin, nails, joints, ligaments, and tendons**.
Certifications ---- Non-GMO. Paleo Friendly & Whole30 Approved. No added sugars or sweeteners. Gluten, cholesterol, heavy metals, and dairy free. Flavorless, odorless.
20g Collagen Powder per Serving ---- Provides 28 daily servings at 20g per serving. Scoop included inside the container for precise measuring. Each container is filled with exactly 20 oz of collagen powder, empty space inside is reserved for the measuring-scoop.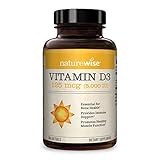 most active form: NatureWise Vitamin D3 in certified organic olive oil helps to support teeth and bone health, provide immune support, and promote healthy muscle function
Essential Vitamin: Our formula delivers the same biologically active form of vitamin D produced by the body as a result of sun exposure, without exposure to sun rays
Get your daily dose: The Vitamin D Council recommends 5,000 IU Vitamin D daily for adults to achieve and maintain optimal levels
Highest potency: Our Vitamin D 5000 IU softgels are easy to swallow. Some research indicates that vitamin D3 in liquid softgel form is more bioavailable than powdered or tablet forms. No artificial additives
Pure & natural: These Vitamin D3 immune support and bone health supplements are gluten-free and non-GMO. Third party tested for purity and potency. Packaging may vary due to high demand, same great product and ingredients.
Directions: It's Normal For Gel Capsules To Get Soft And Stick Together Under Warm Weather Conditions, Hardening Into Clumps When They Return To A Cool Room Temperature. This Does Not Affect The Quality Or Efficacy Of The Ingredients Inside The Capsule. To Release The Clumps, Give Your Bottle A Good Shake Or Knock It Against The Counter, Then Gently Pull Apart Any Remaining Clumps.
During the summer months products may arrive warm but Amazon stores and ships products in accordance with manufacturers' recommendations, when provided.
Myth 4: Low-Fat Diets are the Only Way to Lose Weight
Lowering dietary fat consumption can help people lose fat when dieting, but this is usually because reducing fat consumption also reduces calories (remember that fat is more calorie-dense than carbohydrates and protein.)
However, if you are substituting pre-packaged fat-free or lower-fat foods into your diet — instead of foods that are naturally low-in-fat like vegetables, whole grains and lean protein sources – you may actually find yourself gaining weight because of the high sugar content in store-bought fat-free foods.
Pre-packaged fat-free foods are also frequently high in processed carbohydrates, which combined with the sugar, can spike blood sugar levels. Frequent spikes in blood sugar can cause hunger later in the day (which can spur over-eating), sap energy levels and encourage (gasp) the body to store excess sugars as body fat. There is also evidence that diets high in processed carbohydrates and sugar can speed the onset of Type 2 diabetes and Metabolic Syndrome.
Ironically, because the fat has been removed from these foods, the impact on blood sugar is even more pronounced than if the fat had been left in. Dietary fat, because it takes longer to digest than carbohydrates, lowers the glycemic load of carbohydrates on the body, which in turn can actually stabilize blood sugar levels. So while pre-packaged fat free foods seem like a great alternative, they may actually be hurting, more than they are helping.
Myth 5: The Best Diet Has The Least Amount of Fat Possible
Wrong. Fat is an essential macronutrient that your body needs to function properly. Aside from being a source of energy, dietary fat is a nutrient that is required for proper cellular function in the body, and is used to produce hormones that regulate things like blood pressure, heart rate, blood clotting and the central nervous system. Dietary fat is also necessary to absorb certain fat-soluble vitamins like A, D, E and K.
Fat also is used by the body to maintain hair, nails and skin as well as to provide padding for your internal organs. Finally, fat not only improves the flavor and texture of foods, but moderate fat consumption can increase a sense of "fullness" or satiety (being satisfied after eating.)
Reducing dietary consumption to extremely low levels for prolonged periods of time can cause a wide-range of health issues, including lowered immunity, difficulty recovering from injuries or wounds, and vitamin deficiencies. Also, when you cut out all fats, you are typically cutting out the healthy ones as well, which means you won't get the health benefits of things like Omega 3 fatty acids.
Still not convinced?
A 2006 study of women conducted by the National Heart, Lung and Blood Institute found that low-fat diets did not protect women against heart attacks, strokes, breast cancer or colon cancer.
Just another reason not to jump on the no-fat bandwagon.
Eat The Right Dietary Fats, Not No-Fat
The trick here when it comes to dietary fat is to focus on consuming the majority of your daily fat in the form of healthy fats. These include polyunsaturated fats from things like fish, walnuts and flaxseed, as well as monounsaturated fats from olive oil, avocados and tea seed oil.
In terms of saturated fat, you should still aim to consume no more than 7% of your daily calories from saturated fats. While there is some debate over the role that saturated fat plays in heart disease, there is a statistically significant correlation between high consumption of saturated fats and coronary heart disease and elevated total cholesterol levels (including "bad" LDL cholesterol.)
The best way to get the right mix of dietary fats is to shift your focus from sources of saturated fat, like meat, full-fat dairy and butter, to healthier s